The beautiful monsoon showers are here. Rains have taken over the heated summer days, but the clouds bring in gloom and a lot of humidity with them. While the no-heat aspect is a relief, the dark evenings make the home dull and boring. It is the perfect time to revamp your spaces with some easy to implement ideas.
The cure to the gloom is a dash of vibrant hue that instantly energises your spaces. Bring in the sunshine yellows and the bright blues in different checks and ikat prints to add a new refreshing dimension to your work and living spaces. These prints and colours can be on your cushions or just as a throw over your couch.
After beating the gloom, a quick, easy solution to the humidity problem is to keep the spaces well-ventilated. Drawback your curtains, open up the windows and let the air in; Enjoy the cool breeze. To remove the added moisture, bring in plants which are a great way to add life and liveliness into every space. You can choose either a Boston Fern, Peace Lily, Areca Palm, English Ivy or a Spider Plant. Or you can bring in multiple and play with the sizes of these plants. For example, your centre table can adorn a pair of bonsais, whereas the corners can host big leafy ones.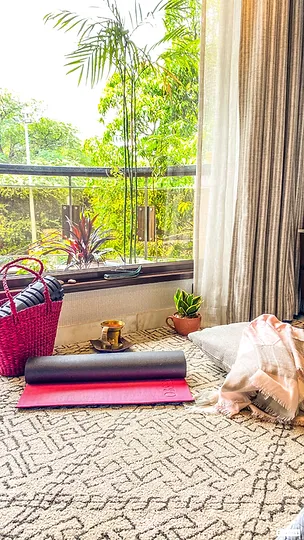 If you want to brighten up the corner further, use accent lights to highlight spaces. A bright floor lamp is a creative way to add an eye-catching element to the living room space. This lamp creates a soothing corner in the evening for you to sit and enjoy your evening tea, basking in the sound of the rain.
Decluttering is one of the most important trends that allow a free flow of positive energy in your spaces. Clearing the mess visually lightens up areas that help us de-stress and stay calm. The popular trend of creating shelving corners in the house that displays memorabilia and books is a brilliant way to organise and liven up everyday spaces. Stack up your books and pair them with travel souvenirs and pictures.
Engage with different senses. While the colours are pleasing to the eye, fragrant candles, oil diffusers and floating candles are a creative yet affordable way to make your space more welcoming and enchanting. Bright, beautiful flowers like Lilies, Roses and Tuberoses are another way of engaging with the visual and olfactory senses. Or you could plant herbs like basil, oregano and thyme to add a scintillating aroma and use their leaves in cooking. All these small interventions rejuvenate spaces, adding a refreshing new dynamic.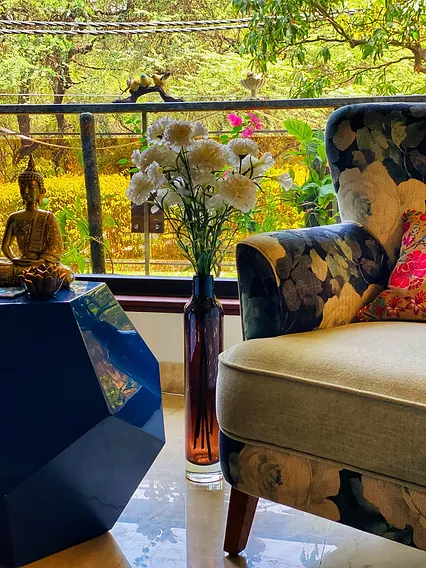 Want a more evident change? One of the simplest ways is to clear up space by letting go of heavy furniture pieces or simply rearranging existing furniture pieces to change the layout. Arrange it to have clean movement space, which will most certainly give a fresh experience to everyday spaces.
If you want to add extra layers and dimensions to your space, look out for wallpapers and rugs. Although they are a little expensive, they are really easy to install and are available in many options. However, suppose you are working on a tight budget. In that case, you can opt for easy up-cycling and recycling solutions to revamp your existing decor. For example, reupholstering your chairs and sofas in vibrant colours and textures and re-polishing the wood or giving it a distressed look. Uplift rugs with new stitching patterns and lay them with the furniture pieces.
For your bedroom, redo the headboard in fabric for an up-cycled look. Add floor cushions to the opened up area. Dry-clean old dhurries and up-cycle the material for these cushions. Paint your lampshades in complementary or contrasting colours and refresh the overall look of your spaces. These interventions will lease the furniture a new life and give your rooms a brand new look.
Pick up these ideas and experiment on your spaces. Add that colour and bring in the plants. Declutter. Let the breeze and energy in. These ideas won't only revamp your spaces for the monsoon but will last you as long as you are working from your homes. After all, who doesn't love to work from a lively corner with a good vibe and fresh breeze!