Easy decor ideas for beautiful festive interiors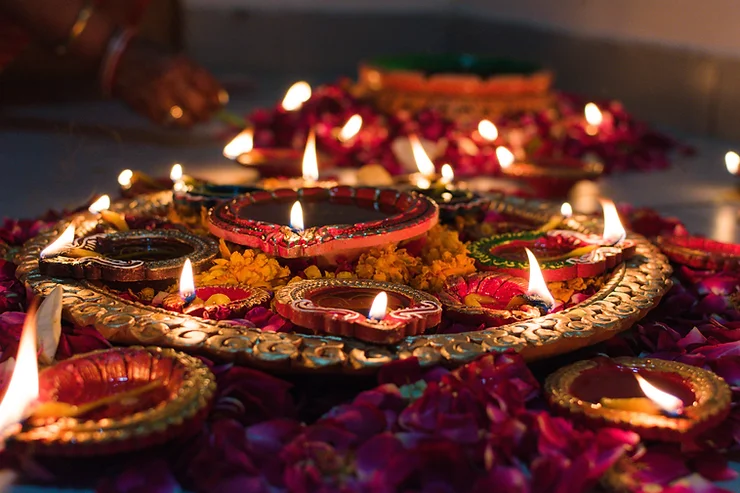 The festive season in India is here. Diwali marks the peak of festivities where people socialise, host and entertain their loved ones; the joyous spirit is in the air. The difficult past couple of years makes this year's celebration more beautiful and heartwarming, and resonating with this, our home interiors, too, should reflect these gala times, and the best way to set the mood is through colours and decor. Here are some easy ways to imbibe the ecstatic air in your spaces.
1. Colour Riot
Bring in the festive colours of red, yellow, vermillion, royal blue and ochres to set the spirit right. These do not need to be all bright and loud but opt for their earthy tones to inculcate a subtle cheeriness. Your existing spaces can be uplifted with bright cushions, cosy throws, a change in upholstery, some fresh flowers and plants. Use old sarees, shawls and dupattas innovatively and recycle them for home styling as upholstery like cushions, throws and curtains.
2. Metallic accents
Metallic tones of gold and silver contribute significantly to the spirit of celebration. Use them subtly in your decor, as brass trays on the side tables, accents on the cushion fabrics or even tassels on your upholstery to add a sparkle of luxury to your spaces.
3. Sensory celebration
The ambience of any space depends on its experience, which is based on all the senses. So, tickle your olfactory glands with some potpourri on your consoles, agarbattis, aroma oils and fragrant candles to set up your spaces for the festivities.
4. Spatial layout
Since you will be hosting, easy circulation around your spaces is important. Move around your furniture to optimise the space. Remember to keep it cosy so that the conversation keeps flowing. Add throws to couches and rugs on the floor to accentuate the spatial layout and for insulation during the cold weather.
5. Light up the Lamps
Diwali is the festival of lights, so it is only fair to indulge in illuminating your interiors. Add some accent lamps whose shades can be painted and customised to bring a personalised look. Along with that, invest in good quality fairy lights to string across the balcony or in the living spaces. Another form of festive lighting- Lanterns look pretty and add to that festive look. Set up some candles and lamps to impart the traditional festive atmosphere.
These simple yet promising ideas will most certainly invite the festive vibe in your home interiors. While sourcing decor items, it is vital to opt for eco-friendly handmade products both for décor and gifting, even better if it is bought from small and local businesses. We wish you a very happy and joyous festive season.