A guide to adding Indian elements to contemporary home decor.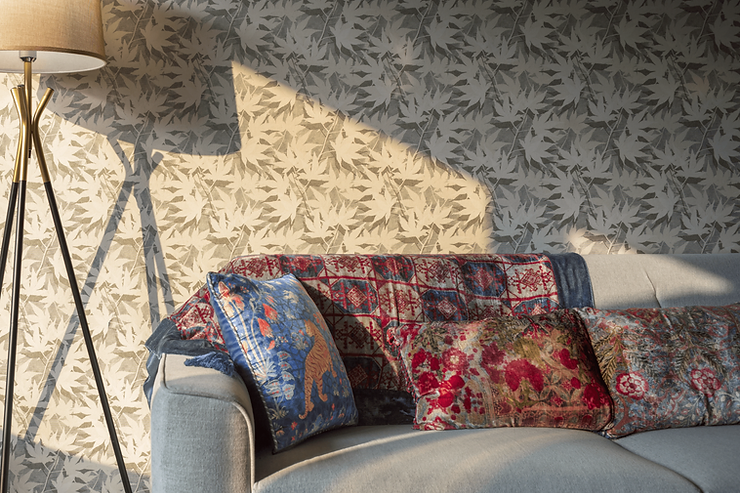 India, for the past couple of years, has been reverberating with slogans of 'Make in India' and 'Made in India', which stands for promoting the local products, artforms, artisans and businesses. From all of India's rich cultural legacies, the heritage of textiles and fabrics is one of the most vivid, offering us a broad spectrum of colour options in various patterns and textures. The options range from luxurious silk, a classic pashmina, an earthy khadi, eye-catching jacquards, linens and many more. Added to weaves, there are techniques such as embroidery that enhance the cloth with an artistic expression.
Specifically, when it comes to home decor, upholsteries take up a significant proportion of the visual space, ranging from curtains, sofas, bed linens, bed covers, bed backs to little elements such as cushions, throws, and rugs. These design essentials could incorporate a wide array of incredible ethnic Indian fabrics in order to add charm and colours to the home interiors. These will elevate the visuals of one's home and endow a luxurious appearance to the home.
Here are a few ideas on how to seamlessly integrate these fabrics into the interiors.
Apart from the usual cushions and curtains, Indigenous prints like Dabu and Ajrakh can be incorporated as elements in doors by sandwiching the textile between glass and framing it; use the entire piece or just a part that depicts a specific art like Gond.
While using multiple fabrics together, pair the bright, printed fabrics with earthy ones to tone down the look.
The smaller patches of fabrics make for enticing art pieces, elevating a neutral space with a pop of colour. One could keep changing the fabrics to keep renewing the look often.
Recycle pieces from the trousseau as wall hangings, blinds, throws and drapes. Not only will this be a sustainable option, but this home styling tip will also add warmth and a personalised meaning to the spaces.
Indian art has a plethora of added elements like mirror work, block printing, motifs that could be added upon fabrics in contemporary colours to beautifully juxtapose the two and yet create a distinct look.
While exploring the Indian textures and fabrics, remember the importance of balance and understand the material's natural texture. While some fabrics are sturdy, some give a beautiful fall. For example, linen and cotton are sturdier than silk; hence, they would make a good choice for a sofa whereas the latter is excellent for window treatments and cushions.
Furnishings and fabrics are an essential element of the design in any space, more so in house designing, and hence it is elemental to make wise choices when it comes to fabrics and colours while in the conceptual stage. Today, with growing awareness about the importance of hand-woven Indian fabrics by skilled artisans, designers in India are making a conscious effort of collaborating with weavers and incorporating this rich heritage in their designs, especially home interiors, which has revived the weaving industry and elevated the interior spaces.