Interior design hacks for a perfect bedroom space.
In the world of home interiors, bedrooms are everyone's safe-havens, a place where you are likely to retire after a tiresome day and a place that is more a reflection of you than any other space in the home. Whether you have a dynamic personality or are a laid back person, the bedroom is one place that should promote all kinds of activities you are interested in and also impart a sense of calm. However, designing that can be tricky; so here are some basic bedroom design ideas to help you manifest a chic, yet calm space:
1. Colour
Colours are the soul of a space, adding life and mood to it. While bright colours and dark tones seem appealing, bedrooms are supposed to be a personal sanctum to relax and hibernate. Hence, it is wise to use calming and neutral tones like off-white and light grey. Should you wish to use some form of colour, a tint of colour like blue or green would give it a desired soothing look. Going all dark-toned in the bedroom is not a preferred option; however, you could incorporate a single wall in an accent colour and play with contrasts.
2. Ease of circulation
A bedroom with too much furniture is congested and overwhelming. Ensure that your layout leaves you enough space to move around, and you do not have to squeeze your way to your bed. Remember that you will need storage space to store and display your collectables and other items. While open shelves look better, closed storage gives a cleaner and decluttered visual, and therefore a good balance of the two is important.
Create a small nook in the bedroom design for yourself to decompress after a long day. It could just be a cosy chair with a footstool by the window or a rug on the floor with giant pillows.
3. Natural and artificial lighting
Lighting is one of the most critical elements in home interiors, both natural and artificial types. A good bedroom design should have a balanced mix of both. All bedrooms should ideally have at least one window to let the fresh light and air in. Apart from that, use different forms of direct and indirect lights to create different ambiences, as per one's liking. Home designers usually prefer to layer lights in the rooms by providing indirect lighting from the ceiling, direct sources of lights, bedside lamps, hanging lights and wall sconces. This enables the users to toggle on and off according to the functional requirements while also saving on electricity.
4. Sheer curtains and drapes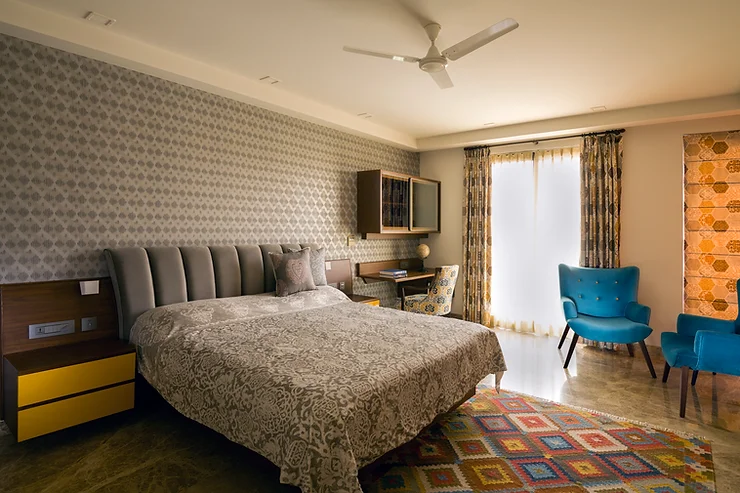 With the large window, blocking the light during the day for sound sleep is essential. Here, layering is the key; a sheer curtain in soft translucent material at the back for when you want subtle light pouring in and then a drape in a thicker material to cut out all the light. These drapes add their own visual element to the space, and hence their colour, print, length and style needs to be thought carefully. Home designers and stylists prefer to use printed drapes if the overall theme of the room is solid or if it is a minimalistic theme, then they would opt for solid drapes.
5. Materials
The world of materials is evolving every day and from the wide variety of available materials, use those that require less maintenance in the longer run. Be it for the bed-back, the panelling on the wall or the finish of your bed and side units, prioritise functionality and comfort over aesthetics. Materials like polished veneer and plain laminates are easy to clean, whereas some soft materials absorb dust and are difficult to clean. Be mindful of all these aspects while selecting them for your bedroom as well as all parts of the residential interiors.
6. Accessorise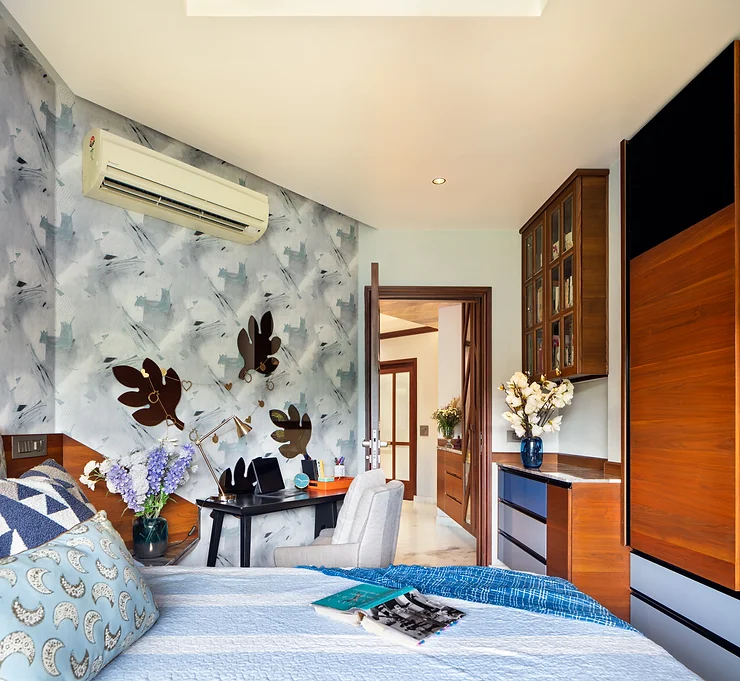 The decor adds a whole different layer to your home interiors in the form of rugs, art pieces, plants, throws and memorabilia. Home styling is a great way to personalise your space with your books, souvenirs, and other collectables, but keep the overall theme in mind. If you are going for an overall monochromatic look, these decor accessories could be your element of colour, sprucing and livening up your bedroom. If you want to tone down your bright accent walls, you could opt for black and white art pieces to adorn the wall and break the scale of the wall.