Interior design trends shape the way we experience our living spaces. The trends reflect homeowners' evolving needs, wants and desires, which are also aesthetically in sync with the current era.  In this exploration of interior design trends, we look into the exciting and innovative concepts that are shaping the world of interior design in contemporary times.
'Dopamine Decor' is one of the latest home styling trends that is used to create/ increase the happiness quotient in any space. In this blog, we closely look at the latest interior styling trend of 'Dopamine Decor' with tips on styling your home interior.
Understanding the dopamine effect in decor
Inspired by the Kitsch style (playful and colourful style that embraces unconventional and nostalgic elements), 'Dopamine Decor' styling uses vintage with bold patterns or bright colours to elevate spaces. This interior styling mainly plays around with bright pops of colours, patterns and textures to brighten up the space, resulting in a positive and happy environment. The colour palette mainly consists of oranges, pinks, yellows, lime green, and cobalt blues. The usage of recycled, vintage and upcycled pieces in furniture and art, makes this home decor style a highly sustainable option. 
How to start styling
Each space has certain requirements to decorate it in a particular style. To begin with, create a mood board to test your understanding of the Dopamine Decor and see how elements play with each other in the context of your home interior. Following are steps on how to create your Dopamine Decor moodboard:
Pick a colour and play with the tones of a similar shade

Add layers to these colours by using patterns and textures in neutral tones

Begin with lighter tones on the walls or try brightening up a part, like a niche or smaller wall.

Use rugs and curtains to bring in texture and patterns

Add accent pieces with popping upholstery

Pick larger furniture items like sofas that are neutral.

Use correct lighting to produce proper effects 
Remember to keep the interior light to avoid feeling tired of seeing it every day and avoid creating an overwhelming effect by doing the following:
Use the colour wheel as a tool to help understand contrasting colours

Do not clutter the space with too many elements

Do not paint the entire space with bright colours instead, paint smaller walls/niches in bright colours

Use colours that reflect your personality/taste and avoid being solely influenced by Pinterest

Avoid bright lights as it may conflict with existing pops of colours on the walls or upholstery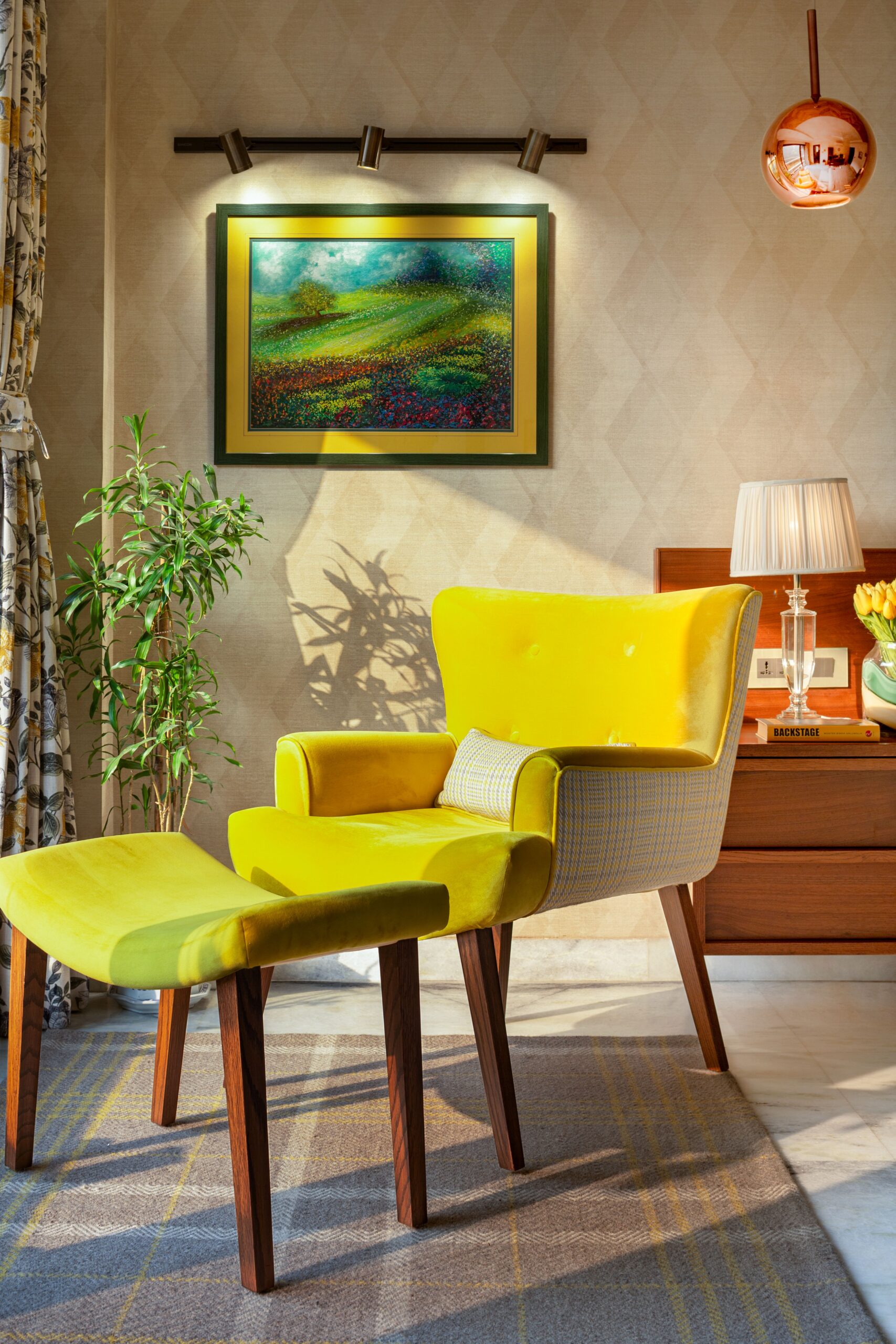 Home styling tips using Dopamine Decor
To transform homes into designer homes, the residential interiors can be easily styled in the Dopamine decor by understanding the aspects of walls, flooring, ceiling, furniture, window dressing, artwork, and lighting, in each type of room.
1. Living Room- should evoke a sense of comfort, warmth, and relaxation that feels welcoming and inviting 
Walls can have pastel hues with pops of colour used in furniture pieces like a console table, a credenza or an end table. The seating, like lounge chairs, can have bright upholstery that contrasts with the neutral tones on sofas. Another option is to have brighter walls and furniture upholstery with lighter colours. The aim is to make certain colours and textures stand out by pairing other aspects with subtle hues.
2. Bedroom- should evoke calmness and relaxation
Following a similar approach to the living room decor, the bedroom can be styled with the walls having pastel shades and the rugs/ curtains being the textural element. Soft pastels and soothing patterns are recommended, with the opportunity to experiment with brighter colours on the bedding and use patterns/art works on cushions.
3. Study- A focused space with a sense of privacy and a nurturing environment
Shades of green are recommended to promote thinking. The natural wood grains complement pastel green with some cane work as a textural element. A neon-lit inspiring quote can also be put on the wall to complete the look.
4. Kitchen- essence of a home
Vibrant yellows can be paired with natural wood or whites while experimenting with vintage appliance collections. The walls can have coloured backsplash with mosaic or subway tiles to achieve a dopamine effect.
Dopamine decor has the ability to brighten up any space if executed well. The above home styling tips can help you create your dream interiors and increase your happiness quotient.