The Indian traditional design grammar imparts a sense of richness and earthiness to homes, becoming the soul of the space. With time and globalisation, homes have become more minimalist and contemporary, with design aesthetics rooted in functionality. In our practice at TWI, we firmly advocate meaningful and natural spaces which are sleek and modern, yet have a traditional soul. If you wish to craft such a space, here are five easy ways to incorporate traditional Indian elements into a contemporary home -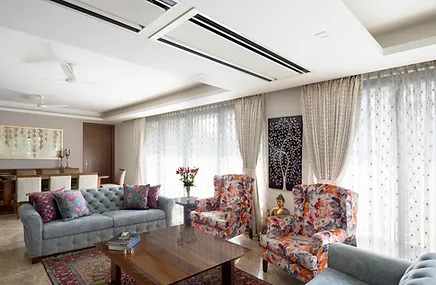 1. Spatial arrangement - Scale and proportion are crucial in design, especially to the furniture layout. With open plans and multifunctional spaces, you can opt for traditional furniture pieces and lay them, so that they add fluidity to the area and provide ease of movement, thereby losing the rigidity, yet succeeding in using Indian elements.
2. Details in the furniture - The use of wood for furniture has been a popular choice in the Indian context, and it is home to many unique wooden techniques in varied forms like various types of inlays and veneer polishes. Incorporate one or a mix of such styles in the contemporary pieces to add an essence of tradition.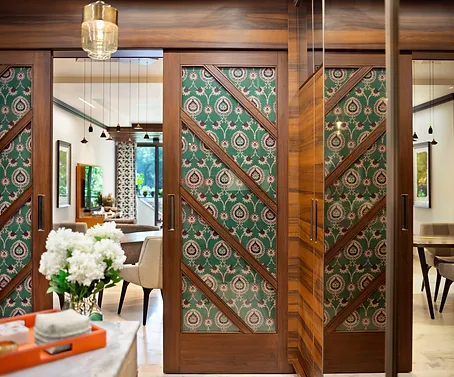 3. Inculcate traditional motifs and fabrics creatively -
India has a rich mix of textiles in vivid materials, unique techniques and exquisite colours. Incorporate them in design elements such as tables, wall panels and even doors. This subtle way of adding a hint of Indian traditional aesthetics to your spaces is dynamic as the design element and can easily be upcycled by changing the fabric.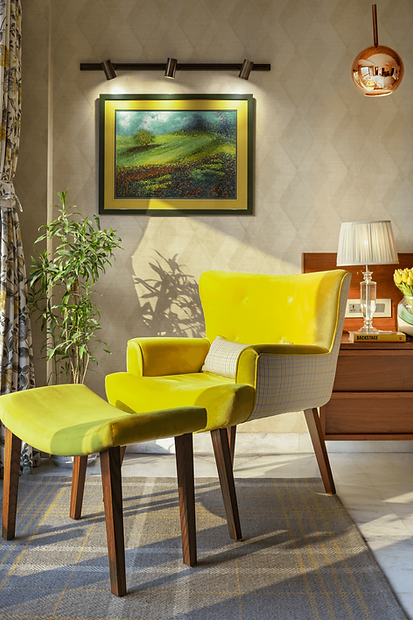 4. Prints and colours for upholstery and wallpapers - Indian traditional motifs and floral prints can be used in upholstery for sofas and lounge chairs and well as throws, pillow covers, rugs, and carpets to contrast with neutral interiors and solid textures. Apart from these, the visual elements can be used as wallpapers to juxtapose and layer other patterns.
5. Pieces of art - Framing traditional art pieces on walls and making the wall a piece of art are great ways of indulging in a traditional essence in a contemporary home, depending on how much 'Indianness' you want in your space. It can be in the form of paintings, murals, wall paintings or even decor pieces.
In today's fast-paced lives, people want easy-to-maintain spaces that offer flexibility while reminding them of their Indian roots in a not so obvious way, to avoid a clash of aesthetics. The above mentioned are easy ways to add the desired hint of your identity to your spaces and make them feel like home.