In the new fast-paced globalised world, our basic needs and lifestyle patterns have drastically changed with time. With ever-increasing needs, global exposure, self-awareness and many other factors in today's world, the way we perceive the designs for houses have changed.
Traditional Indian homes were simply a response to the local climatic conditions. As times have progressed, homes in Indian cities today have merely become products of the globalised world. For example, we have seen the breakdown of traditional societies, such as joint families, to nuclear families, dramatically affecting homes' matrix and space arrangements. With the lesser availability of land and soaring land value, bungalows and independent homes have been swapped for smaller, more affordable and compact spaces such as apartments with luxurious amenities like clubhouses, gyms, home theatres, etc.
At TWI, in our practice of over two decades, we've seen a wide range of aspirations for building homes from one client to the next. Their brief for designing spaces is so specific to each project and furniture piece. In terms of home interiors and decor, here are the five most common changes we've noticed in people's homes:
1. The luxury of materials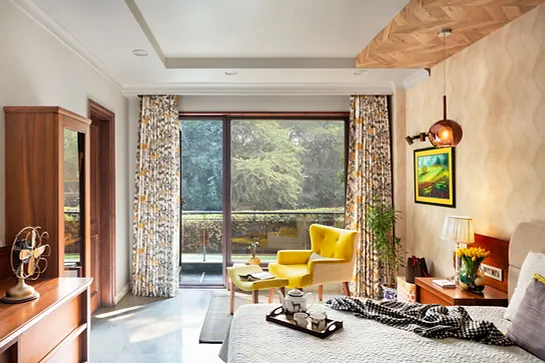 One can choose from a wide range of available materials today for flooring, furniture, or even lighting. Additionally, people are willing to experiment with different looks and materials. As a result, it has become simpler to achieve the kind of feel expected in a room, the desired quality of finish, and a targeted budget for a house.
2. Vivid Interiors
With most of the clients well travelled across the world, they want to bring in the essence of their experiences in their everyday lives, letting their home tell a story that they relate to. Quirky, fun and bold is how the home interiors are prefered by the new homeowners today. The colour palettes are also more playful and suited to set the required mood for a home.
3. Minimalistic furniture
Simpler pieces sans ornamentation, derived from functionality and highlighting a subtle aesthetic through clean lines, are preferred in home interiors nowadays. However, bold elements with curvy and dynamic forms are also being explored as eye-catching centrepieces in subtle spaces to make a strong statement.
4. Open kitchen
With smaller families and all adult members working, there is no longer distinct segregation of rooms, resulting in a more open-plan form with little or no barrier. In addition, the kitchen, which was seen as a service area, has become a part of the living space, incorporating the dining and endow spatial fluidity.
5. Technology-driven spaces
Today, we rely heavily on smart technology, and our homes are moving toward remote-controlled devices and AI operating systems. With the changing nature of work at home, staying connected to the outside world is becoming increasingly important, leading to invisible switchboards and more Alexa's being heard around the house. Furthermore, sustainability has become a pressing need, and its awareness has caused a shift towards energy-efficient homes powered by alternate forms of energy.
There is so much versatility to the plate of designers for homes that it becomes critical to reciprocate reasonably to a client's brief and create sensible and smart homes. Also, it's a boon-bane situation today with the ease of access to social media. Design inspirations are at the tips of everyone's fingers, especially exposing clients' to captivating images, so it becomes essential to have a grounded approach to the whole process.
Although it is more pronounced now, we, at TWI, have always been sustainable in our decisions since the past. And as a practice, we are more aligned to craft a client's desires to create healthy, safe, and soulful environments for this generation and the future. For the past two decades, we have continuously strived to translate ideas, to bind people together through spaces.